Use Fietsknoop in English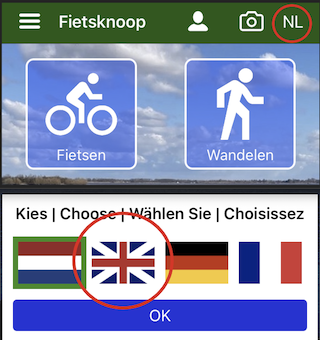 Use the bike nodes system in The Netherlands, Belgium and the borders of Germany to plan your own bike routes. After you make your route you can save, mail and share it.
You can ride your own routes by starting GPS navigation combined with speech instructions in your own language.
On the map you see several points of interests for a stop. You can click on a POI for more information.
Besides planning routes you can use labels to group your routes and you can invite friends to share routes among.
The app initially starts in the Dutch language. Open the main menu and navigate to Mijn instellingen. Find Taal instellingen and choose your own language. After closing the screen Fietsknoop changes its language.
Have fun!
Fietsknoop auf Deutsch benutzen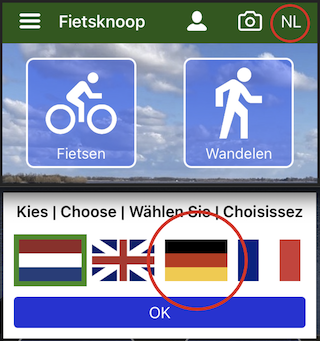 Benutzen Sie das Fahrradknotensystem in den Niederlanden, Belgien und den Grenzen Deutschlands, um eigene Radrouten zu planen. Nachdem können Sie Ihre Route speichern, mailen und teilen mit anderen.
Sie können Ihre eigenen Routen fahren, indem Sie GPS-Navigation kombiniert mit Sprachanweisungen in Ihrer eigenen Sprache beginnen.
Auf der Karte sehen Sie mehrere Punkte für einen Zwischenstopp. Sie können auf einen POI klicken, um weitere Informationen zu erhalten.
Neben der Planung von Routen können Sie mit Fahrradlabel Ihre Routen gruppieren, und Sie können Fahrradfreunde einladen, um Routen zu teilen.
Die App beginnt zunächst in der niederländischen Sprache. Öffnen Sie das Hauptmenü und navigieren Sie zu Mijn instellingen. Finden Sie Taal instellingen und wählen Sie Ihre eigene Sprache. Nach dem Schließen des Bildschirms ändert Fietsknoop seine Sprache.
Viel Spaß!
Utilisez Fietsknoop en Français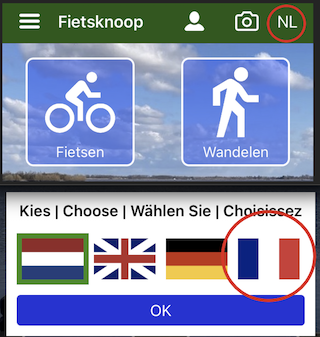 Utilisez le système de point-nœuds de vélo aux Pays-Bas, en Belgique et aux frontières de l'Allemagne pour planifier vos propres itinéraires de vélo. Après avoir effectué votre itinéraire, vous pouvez enregistrer, envoyer et partager cette itinéraire.
Vous pouvez rouler sur vos propres itinéraires en commençant la navigation GPS combinée avec des instructions vocales dans votre propre langue.
Sur la carte, vous voyez plusieurs points d'intérêt pour un arrêt. Vous pouvez cliquer sur un POI pour plus d'informations.
Outre les itinéraires de planification, vous pouvez utiliser des étiquettes pour grouper vos itinéraires et vous pouvez inviter des amis à partager des itinéraires entre eux.
L'application commence en néerlandais. Ouvrez le menu principal et naviguez jusqu'à Mijn instellingen. Trouvez Taal instellingen et choisissez votre langue. Après la fermeture de l'écran Fietsknoop change sa langue.
S'amuser!